31 janvier 2011
One of our resolutions for 2011 was to go to a Basketball game of the team of Lille: Lille Metropole Basket Club that plays in 2nd league.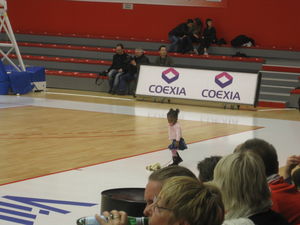 We had few excuses not to do it, on one hand because my boyfriend is a fan of Basket-ball and has a subsription to the NBA games ! On the other hand the sport-hall is 500m away from our flat and we pass by everday on the way to work.
Last Friday at 20:00pm we were there to watch Lille - Aix maurienne.
Lille was on the 10th position at the ranking, and lost quite often the last games. Whereas the oponant is at the 8th position and won 9 games out of 10 ! We didn't except such a nice game from "our" team.
Yes but there is the magic of sport, and we witnessed a great game, especially the 2nd half where the 3 leaders of the team made their show, especially the smallest one of the team with "only" 1m82 height !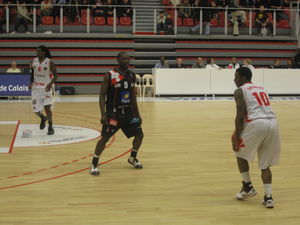 It was a good show also on the bench with the fan club ! 10 persons in total but they were as loud as 100, with drum, flag and some funny "wooden bricks for hands" no idea what it is but it is REALLY loud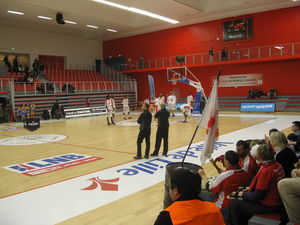 and with really "elaborated" slogan: When the Lille team has to go to defense, the fans scream:
"Defense, *clap*, *clap*, *clap*, Defense, *clap*, *clap*, *clap*,"
and so on, just in case the players forgot that after the attack they have to go to defense...
The nice thing about it is that it works as well to welcome a new player in the game. For instance when Olivier, 2m19, enters, we scream: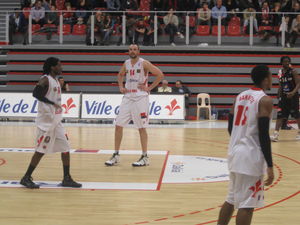 "Olivier, *clap*, *clap*, *clap*, Olivier,*clap*, *clap*, *clap*, "
Easy hm ? Thus I could also join the fan-team by singing with them :)
We had cheerleaders at the break. No comment, sometimes less is more !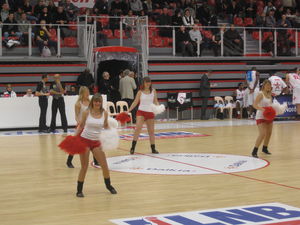 At the end it was a very nice evening with a clear victory during the last 10 minutes of the game.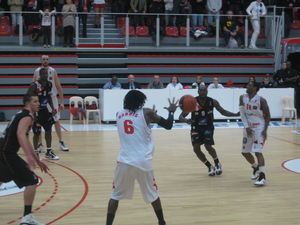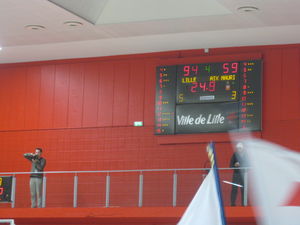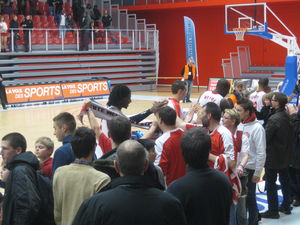 Hi5 at the end !
27 janvier 2011
Until last week there was the exposition "Silk road" at the Tri postal.
The tri postal is an old building used to separate the mail that has been rearranged into an art galery/museum. It is completly downtown, between the 2 train stations, 5 min walk from home, perfect.
The exposition was provided by the Saatchi Gallery from London. The topic "silk road" comes from the artists that are coming from countries such as China, Libanon, Irak, Iran, India... artists that we are ot used to expose here and that have lot to say about dictature, women place in society...
The good point of this expo was the staff. They were not only there to check that nobody touch the paintings but to explain the visitors osme of the artworks. With Cheri we were talking about one sculpture, not sure about the material, the symbol behind and so on. One of the staff members came to us to explain the idea of the artist and the way it was made. Great ! By this way one doesn't have to ask for a real guided visit (boooring) but still can get information about one particular piece of art. I really like that.
So now some of my favorites, and a small Quizz, let's start.
It begins with the chinese artist Zhang Huan
Q1: Can you recognize what he used to make these ? To help you: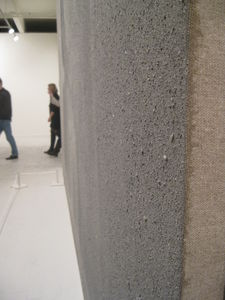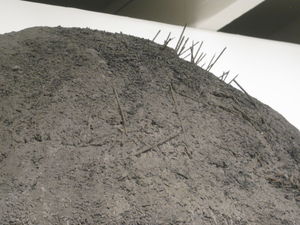 We continue with a real (but dead) camel in a small suitcase: Oppression.
Very weird feeling in front of the chinese Sun Yuan et Peng Yu piece of work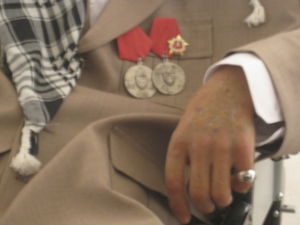 Q2: Can you recognize any of the politicians here (Cheri doesn't count!) ?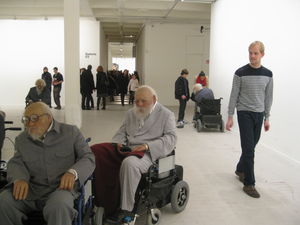 Another piece I like very much and would love to have in my 300 meter square living room...in my next life I guess: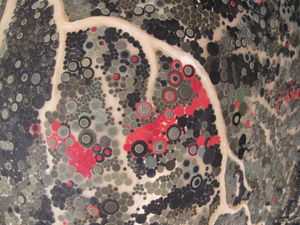 Q3: DO you know what are the small dots on this reproduction of a wale's heart ? The artistit is an indian girl, Bharti Kher (this should help you) ?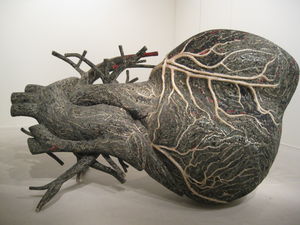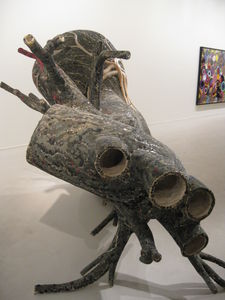 A painting I found very artistic, very poetic. The artist Hayv Kahraman shows with 3 paintings the lamb sacrifice.
SOmething really AMAZING ! The title is "Love it ! Bite it !" made by Liu Wei represents a town of mix where temples are besides modern buildings.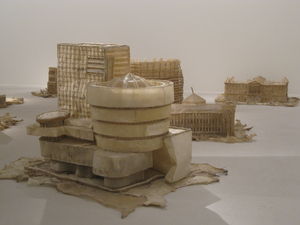 Q4: Can you recognize any of them ?
Q5: Any idea of the material used ?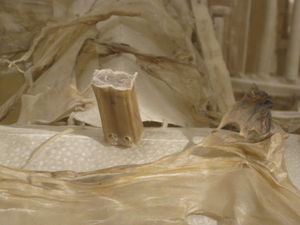 And to finish, something very surprising, "Ghost" by Kader Attia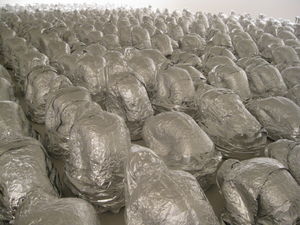 569 women bodies praying, shaped with silver paper (aluminium). It is quite realistic, it feels like the bodies are steel under the paper.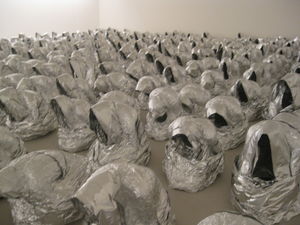 I let you enjoy the pictures, you can go on the 2 links on the top page to see more pictures (and better ones ;) and you can answer the Quizz in the comments. Answers very soon.
13 janvier 2011
Finally I come here to wish you an Happy 2011.
After 4th Christmas holidays in Germany I have finally spent Xmas holidays at home...well, "holidays" that's not really true: I had a deadline for a post-doc project proposal for the 31st of December.
For the one not familiar with research, a project proposal is areport one writes where he/she proposes a research project for which he/she asks money. Basically. as for post-doc it is the 1, 2, 3 years experience you have to do after you obtained your PhD, if you want to stay in research.
In my case this proposal was very important as it is a collaboration between 2 gorups in Germany and in France and thus that would allow me to stay in Lille with Cheri and go from time to time to Berlin. Not bad. Also the people involved are very smart and it would be a great opportunity to work with them.
Thus I have spent 2/3 weeks stuck in front of the computer to write this project. I had a few breaks, to make the Xmas cake, to indeed celebrate Xmas, play bowling with my sisters...but that's basically it. I slept very few 6-7 hous per night and back home in January I really didn't feel like back from holidays.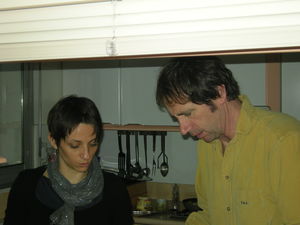 On Xmas day, my step-dad and I making the main dish...very serious business ;)
At the end I have sent my application on time, on the 31st at 7pm and I was tired but proud and relieved ! I keep my finger crossed and wait for the answer, hoping this was not for nothing.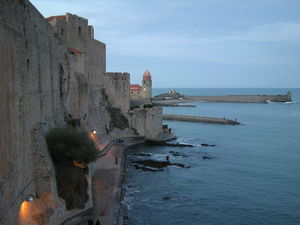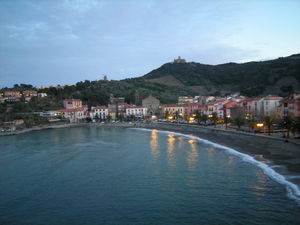 View of my home town
However, Cheri that join us in south of France on the 30th had also a deadline for the 3rd of January ! People in research are crazy... Thus, he had to work on Sunday 2nd and until 4am in the night from the 3rd to the 4th !! But still he took the time to join my family and some friends for the earliest BBQ of the year, ever !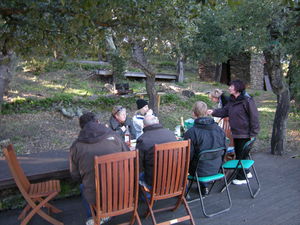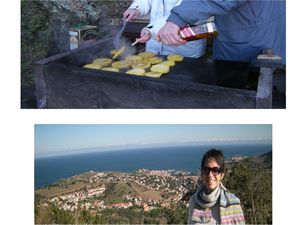 We spent Silvester also in my home town. The thema this year was "Hat" !
table-hat with candles
Was good weather, no wind, no rain. not cold at all, maybe around 12-14°C !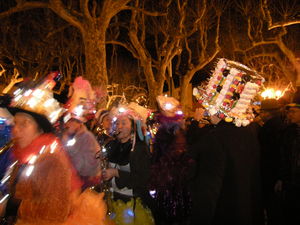 Music and Candy-hat, I wonder how long it lasted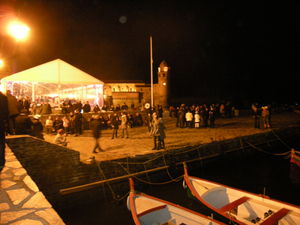 Cheri wore his PhD hat, the one offered by his friend. Thus, he got a lot of "congratulations" all night long...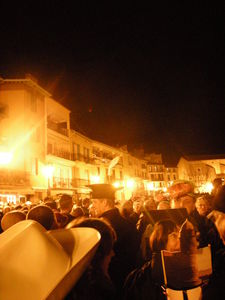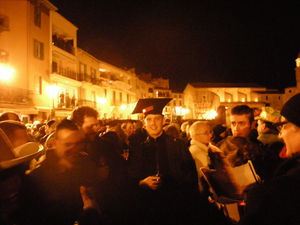 2010 is over, and 2011 started on the same thema: work !! But I promess I learned and I hope to be able soon to leave work besides and enjoy more life, family and friends.
13 décembre 2010
Because there is not only Gluhwein in December, we had 2 week-ends in November to do our reserves of:
1- Beers !
I have been living in 2 countries where Beer was the king drink, Denmark and Germany, the kind of country where each town has its own beer. Now I am only few kilometers away from another country like that, Belgium.
Due to a french-singaporian reunion*, we have spent an afternoon in Menin, a town equivalent to the Perthus the franco-spanish town at the border, close to where I am from. Indeed Menin shares a street with the french town Halluin. Thus on sunday half the street is busy (belgian side) the other half is quite (french side).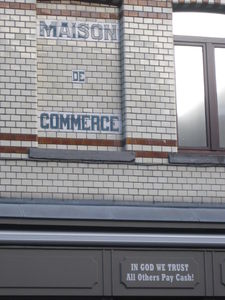 * Once again, this world is not that big: Spring 2006 I meet a young and pretty girl from Lille, in Singapore. I met her again during a week-end in Lille in january 2007 and in 2010 since we live in Lille we see eachother quite often.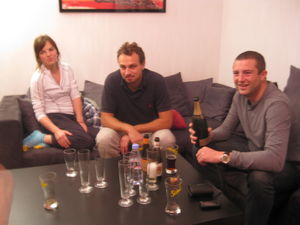 Two ex-singaporian in the same town encouraged another friend also met in 2006 in Spore but who lives now in France to visit them ! Thus he came for 1 week-end to do a remake of our Trio :)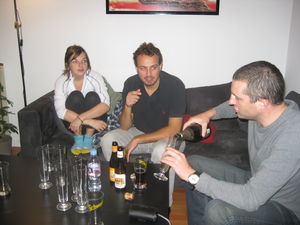 Back to our topic, our visit in Menin was the occasion to buy a lot of belgian beers: I chose a bit by random, deciding if a name or a sticker was nice enough to be bought ! I also found some german beers !!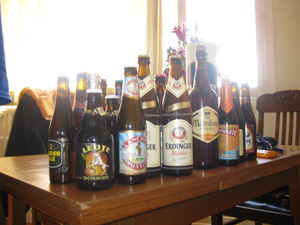 We still have a few left, and the bottle of Chimey that you can see on the back is the one for our first guest to come and to stay with us :) Get ready !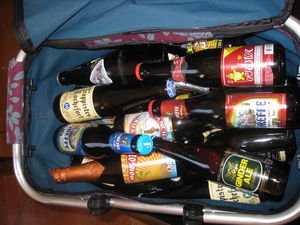 2- Wine !
November 20th it was the salon des vignerons independants = a fair for "independent" winemakers, whatever indenependent is there for. The location was only 10 minutes away from home, so we came there with Cheri and his boss, from 5:30 to 8:00 pm right on time for the aperitif ! And a cheap one, 3 euro the entrance to try all the wine you want (and you keep your wine glass)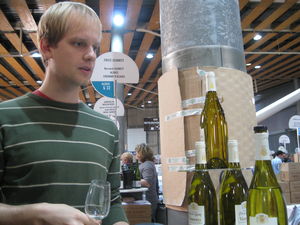 It was quite amazing: 300 winemarkers !
We just chose 1 french-wine region and walked through the allee and tried what looked apetizing on the way.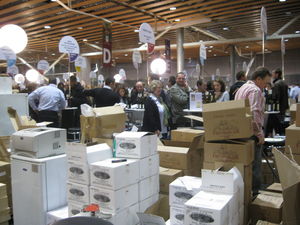 Cheri's boss that new this fair told us that we will have some problem to find a good wine, and he was right. However, we found a few we liked, especially from my part of France, the Languedoc-Roussillon. This one propose good sweet wines: Muscat and Banyuls.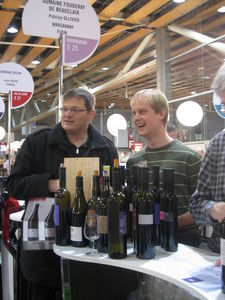 There was a second one that makes good wine and even propose some rooms B&B in case you decide to visit south of France.
09 décembre 2010
There is a big tradition in Germany and in north and east Europe, as well than in the France part of France called Alsace: Sinterklaas !! Or Saint-Nicolas in french, or Nikolaus in German.
The other tradition is to prepare small christmas biscuits called Plaetzchen in Germany or Bredele in Alsace. These are supposed to last for all the month before Christmas and the kids are participating to the biscuits decoration. Thus, for my 2nd Nikolaus in Germany, when I was still not so much aware of german traditions, I had on my desk a pot with small biscuits prepared by a colleague and her 4 years old twins. Sweet !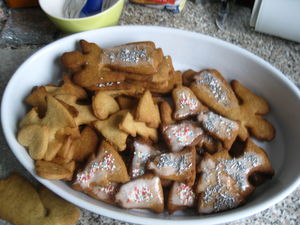 I found that so nice that I promessed myself to bring back this tradition.
As last monday was Nikolaus, Cheri had in his shoes a small Nikolaus in chocolate and a waffle biscuit from here, and my colleagues had a small pocket with the home made biscuits !
However, I do not excel in "christmas decoration in the house" ! I do not like it, especially the Xmas tree ! We just have a cactus that blossum always around Xmas, that Cheri's mum offered us two years ago, and a poor candel that we liked... really poor decoration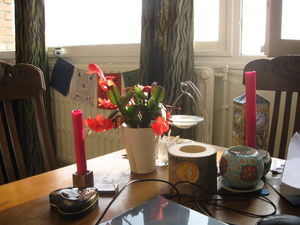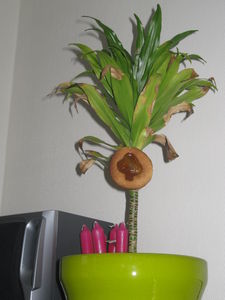 Luckely it was snowing the whole last week, and that brought a bit of Xmas mood, and it was quite cold, between -5 and -3 degrees.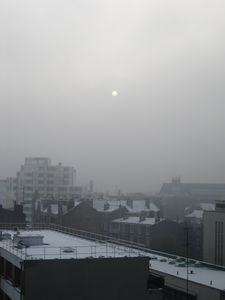 No, no, it is not a night picture, but a day picture where the sun tries to get through the clouds.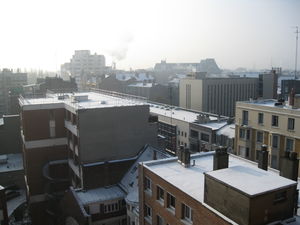 30 novembre 2010
Since Wednesday 24, the Christmas market of Lille is open. Luckely, winter arrived at the same time with only a few degrees above 0. That's very important that the weather is cold, it brings the winter mood for the Xmas market.
Before I go on, I have to reminde you that the Xmas market is THE winter attraction in Germany: this is where one brings kids on the week-end, where one goes out with friends or colleagues after work, where everybody meets, speak loud for once in Germany, laugh and is happy.
I can tell you, this is not the case in Lille ! The only good point we found out so far is that it closes late on friday and saturday evenings (9pm !) when in Rostock, at least in our "old good time" it was at 8pm.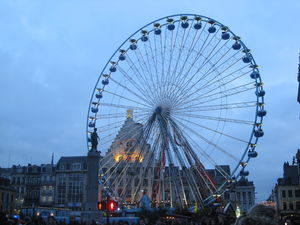 But people are absolutly not there to celebrate all together, they just walk around, like if they visit a museum, and they don't aggregate around one of the small wooden house to talk to people around... to their defense, there is only 3 houses with hot wine, which is quite different to the german Glühwein ! Thus after our first 2 visits we tryed them ALL and already found out our favorite one !
Usually, we were going from one wooden house to the next one, trying wine hesitating, go back the day after to make sure that this one was still our favorite...
One should notice that in Germany the hot wine is served in a mug: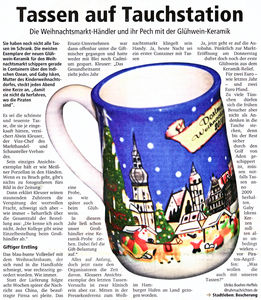 Not only when you buy your hot wine you have to give 1 euro deposit for the mug, that makes a very cheap and ugly souvenir ;) the interest of the mug is that it is practical AND ecologic: you can hold the mug properly with the handle without burning yourself et the mugs are washed and reused when not kept by users.
Here they use plastic cups ! They are slippery when you hold it with your gloves or it burns your hands when they are bare, not to mentione that after 1 month of market there will be a huge waste of plastic !!
So you get it, it is another kind of "it was better in Germany" !
Yes, but because I don't only have bad faith I have to admit that I am glad just to have a Xmas market around the corner as some years ago it was not so popular and only the city of Strasbourg had one. Thus I am happy to go there for a drink with my german guy and to continue our own Xmas traditions.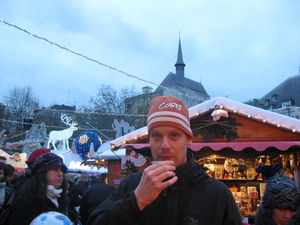 Another good poitn is that we prefer croustillons to Mutze (although according to Wikipedia it is the same) !
Since we were looking for german traditions, we came for a choucroute Saturday night, in a restaurant close to our flat,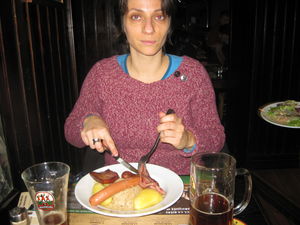 I am not laughing, I am eating !!
and because I am still not tired of it, here is the sunday sunset from our window :)
15 novembre 2010
In the street, beside our flat, there is an old hospice which is renewed into a 5 stars hotel, a restaurant, an estaminet* and a bar.
The prices at the estaminet are correct, although the food is not so delicious, but it is not the same for the hotel and bar: 4 euro a beer or a tea !
The cool thing is that in agreement with the city, the owners have to leave the access to the old hospice and the museum open to the public, for free :)
Visite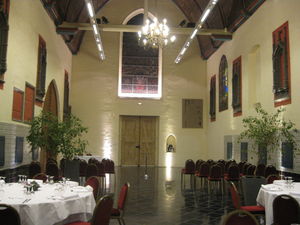 New room for seminars = old nursery
beside each little door (that hide 2 small shelves for people belongings) was a bad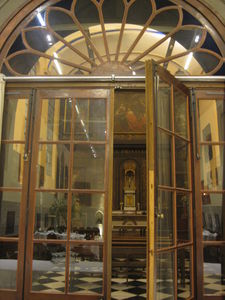 Private chapel !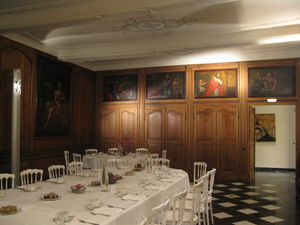 Breakfast room for people on seminar
and the library.
There is also a small "museum" about old medical "tools".
Not too bad, go for a quick visit !
* Typical of the Nord-Pas-de-Calais region, these small bars/restaurants used to be a central place for farmers, mine or textile workers to meet and socialize. Alongside the usual beverages (beers and liquors), one could order basic regional dishes, as well as play various indoor games. These estaminets almost disappeared, but are now considered a part of Nord-Pas-de-Calais history, and therefore preserved and promoted. Source Wikipedia
08 novembre 2010
The Piscine, is an old swimmingpool transformed into museum, in the city of Roubaix.
The frame of the museum makes its visit quite special. During our visit, end of October there was a temporary exposition about Degas. The permanent exposition is quite nice but we found it a bit "messy" and thus it's a bit hard to describe.
I leave you with few pictures that don't really give back the magic of the place but you'll have to do with it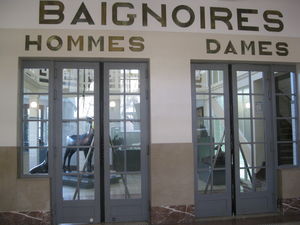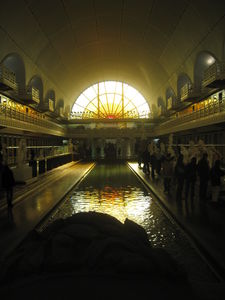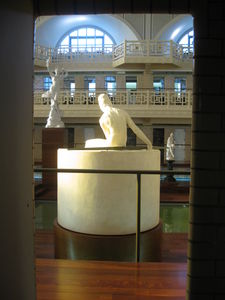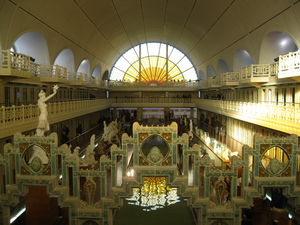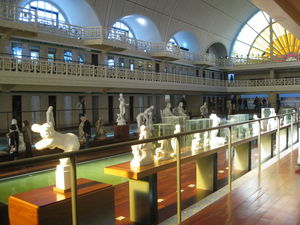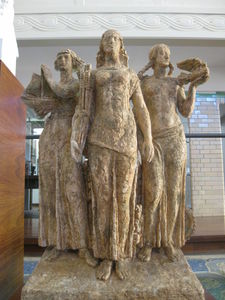 This is a model of the sculpture made by Raymond Couvegnes, which represents the 3 old regions of the north which are nowadays included in the department Pas-de-Calais (natural regions from Pas-de-calais). The sculpture is now on the top of the building of the newspaper Voix du Nord which is on the big central place downtown: la Grande Place in Lille.
On this picture taken from our flat, you can see the actual sculpture, in gold color (better to clic to see the picture bigger, spot the gold on the top right corner)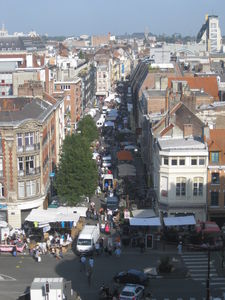 04 novembre 2010
View from my office's window, fall is quite pretty here
but within one week, all the leaves are on the ground, we are in winter :(
22 octobre 2010
Lille, is nice, but Lille is not green ! And that's not so nice.
I know, you can't have it all, but I have to admit that I miss parcs to go for jogging and the proximity with the country-side (that we had in Rostock).
Spetember and early October were really nice weather-wise, and on October the 9th we had very incredible temperautre. I prove it with pictures from the clock down our flat, and that we check every morning to decide what to wear.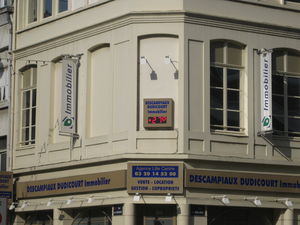 27 degrees ! Thus we joined the other "lillois", in the only green space in town: La Citadelle, and the surrounding wood: le Bois de Boulogne.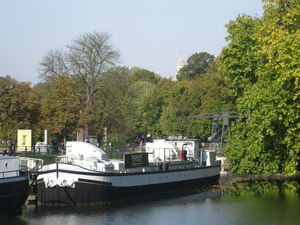 Walk along the river: the Deûle
We arrive at the little fair for kids, Les Poussins (chicks)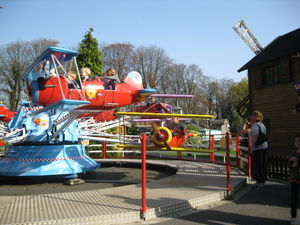 And the "Citadelle" itself, with the Porte Royale (Royal Door)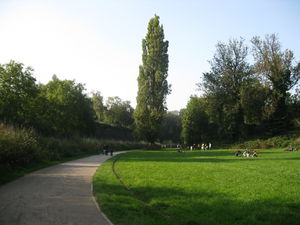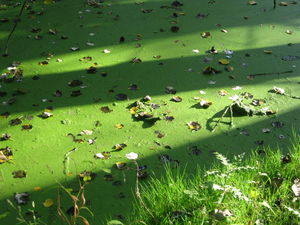 Before arriving to the Porte Dauphine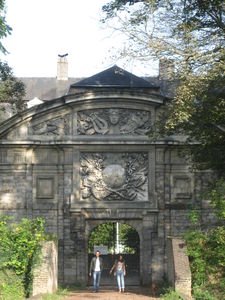 And, as after of each of our "adventure", this one ended up with a beer outside
in front of the church l'eglise Sainte-Catherine.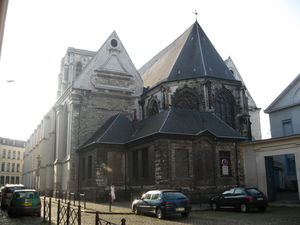 On the way back...
we found a "fanfare" !!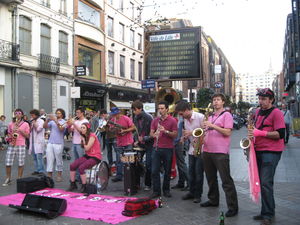 And yes, the building in the back is ours :)