Because there is not only Gluhwein in December, we had 2 week-ends in November to do our reserves of:
1- Beers !
I have been living in 2 countries where Beer was the king drink, Denmark and Germany, the kind of country where each town has its own beer. Now I am only few kilometers away from another country like that, Belgium.
Due to a french-singaporian reunion*, we have spent an afternoon in Menin, a town equivalent to the Perthus the franco-spanish town at the border, close to where I am from. Indeed Menin shares a street with the french town Halluin. Thus on sunday half the street is busy (belgian side) the other half is quite (french side).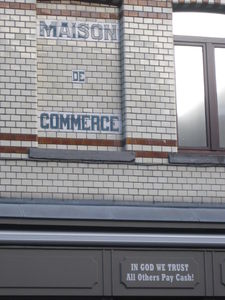 * Once again, this world is not that big: Spring 2006 I meet a young and pretty girl from Lille, in Singapore. I met her again during a week-end in Lille in january 2007 and in 2010 since we live in Lille we see eachother quite often.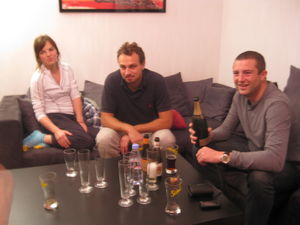 Two ex-singaporian in the same town encouraged another friend also met in 2006 in Spore but who lives now in France to visit them ! Thus he came for 1 week-end to do a remake of our Trio :)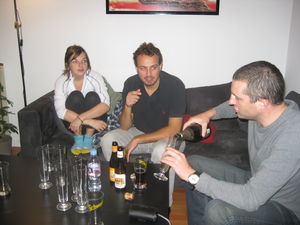 Back to our topic, our visit in Menin was the occasion to buy a lot of belgian beers: I chose a bit by random, deciding if a name or a sticker was nice enough to be bought ! I also found some german beers !!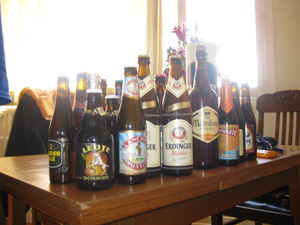 We still have a few left, and the bottle of Chimey that you can see on the back is the one for our first guest to come and to stay with us :) Get ready !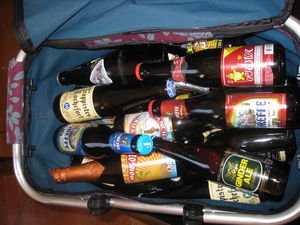 2- Wine !
November 20th it was the salon des vignerons independants = a fair for "independent" winemakers, whatever indenependent is there for. The location was only 10 minutes away from home, so we came there with Cheri and his boss, from 5:30 to 8:00 pm right on time for the aperitif ! And a cheap one, 3 euro the entrance to try all the wine you want (and you keep your wine glass)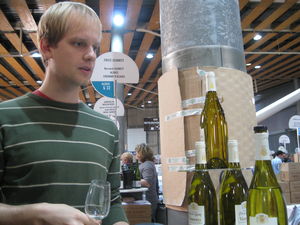 It was quite amazing: 300 winemarkers !
We just chose 1 french-wine region and walked through the allee and tried what looked apetizing on the way.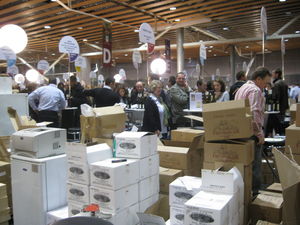 Cheri's boss that new this fair told us that we will have some problem to find a good wine, and he was right. However, we found a few we liked, especially from my part of France, the Languedoc-Roussillon. This one propose good sweet wines: Muscat and Banyuls.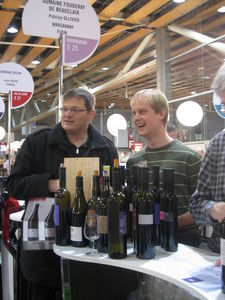 There was a second one that makes good wine and even propose some rooms B&B in case you decide to visit south of France.