One of our resolutions for 2011 was to go to a Basketball game of the team of Lille: Lille Metropole Basket Club that plays in 2nd league.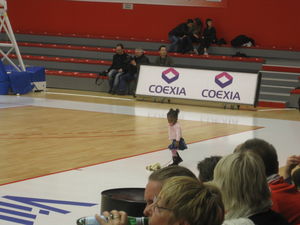 We had few excuses not to do it, on one hand because my boyfriend is a fan of Basket-ball and has a subsription to the NBA games ! On the other hand the sport-hall is 500m away from our flat and we pass by everday on the way to work.
Last Friday at 20:00pm we were there to watch Lille - Aix maurienne.
Lille was on the 10th position at the ranking, and lost quite often the last games. Whereas the oponant is at the 8th position and won 9 games out of 10 ! We didn't except such a nice game from "our" team.
Yes but there is the magic of sport, and we witnessed a great game, especially the 2nd half where the 3 leaders of the team made their show, especially the smallest one of the team with "only" 1m82 height !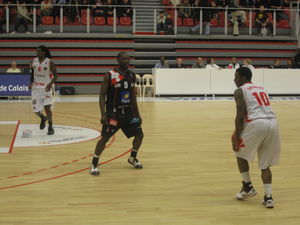 It was a good show also on the bench with the fan club ! 10 persons in total but they were as loud as 100, with drum, flag and some funny "wooden bricks for hands" no idea what it is but it is REALLY loud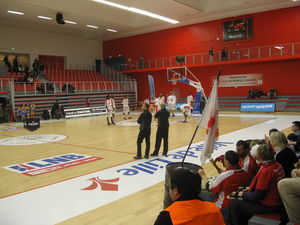 and with really "elaborated" slogan: When the Lille team has to go to defense, the fans scream:
"Defense, *clap*, *clap*, *clap*, Defense, *clap*, *clap*, *clap*,"
and so on, just in case the players forgot that after the attack they have to go to defense...
The nice thing about it is that it works as well to welcome a new player in the game. For instance when Olivier, 2m19, enters, we scream: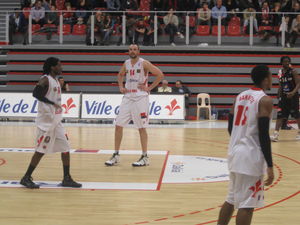 "Olivier, *clap*, *clap*, *clap*, Olivier,*clap*, *clap*, *clap*, "
Easy hm ? Thus I could also join the fan-team by singing with them :)
We had cheerleaders at the break. No comment, sometimes less is more !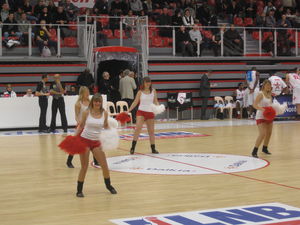 At the end it was a very nice evening with a clear victory during the last 10 minutes of the game.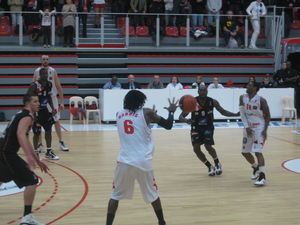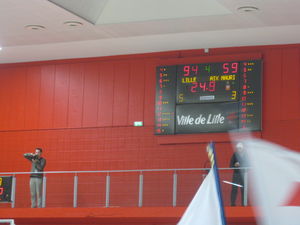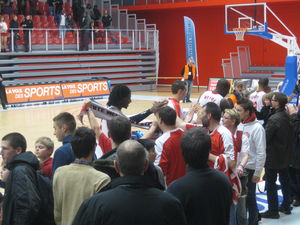 Hi5 at the end !