Until last week there was the exposition "Silk road" at the Tri postal.
The tri postal is an old building used to separate the mail that has been rearranged into an art galery/museum. It is completly downtown, between the 2 train stations, 5 min walk from home, perfect.
The exposition was provided by the Saatchi Gallery from London. The topic "silk road" comes from the artists that are coming from countries such as China, Libanon, Irak, Iran, India... artists that we are ot used to expose here and that have lot to say about dictature, women place in society...
The good point of this expo was the staff. They were not only there to check that nobody touch the paintings but to explain the visitors osme of the artworks. With Cheri we were talking about one sculpture, not sure about the material, the symbol behind and so on. One of the staff members came to us to explain the idea of the artist and the way it was made. Great ! By this way one doesn't have to ask for a real guided visit (boooring) but still can get information about one particular piece of art. I really like that.
So now some of my favorites, and a small Quizz, let's start.
It begins with the chinese artist Zhang Huan
Q1: Can you recognize what he used to make these ? To help you: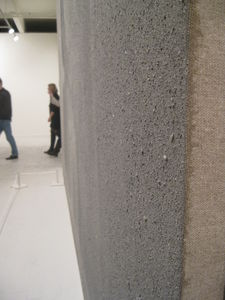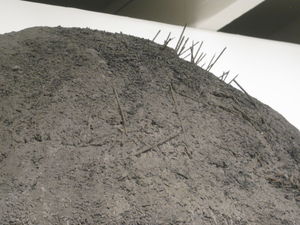 We continue with a real (but dead) camel in a small suitcase: Oppression.
Very weird feeling in front of the chinese Sun Yuan et Peng Yu piece of work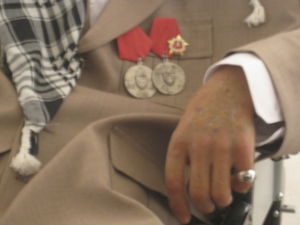 Q2: Can you recognize any of the politicians here (Cheri doesn't count!) ?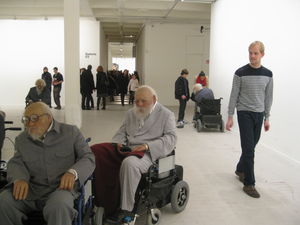 Another piece I like very much and would love to have in my 300 meter square living room...in my next life I guess: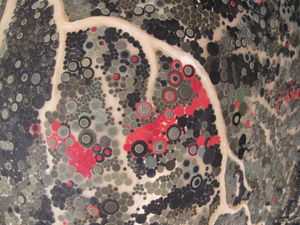 Q3: DO you know what are the small dots on this reproduction of a wale's heart ? The artistit is an indian girl, Bharti Kher (this should help you) ?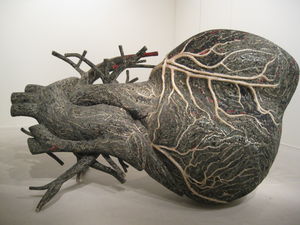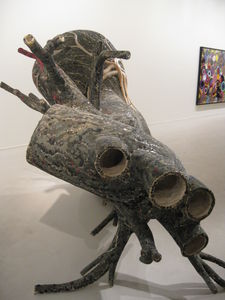 A painting I found very artistic, very poetic. The artist Hayv Kahraman shows with 3 paintings the lamb sacrifice.
SOmething really AMAZING ! The title is "Love it ! Bite it !" made by Liu Wei represents a town of mix where temples are besides modern buildings.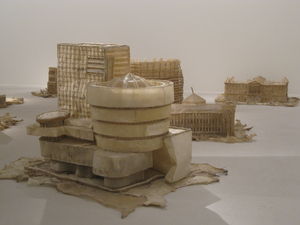 Q4: Can you recognize any of them ?
Q5: Any idea of the material used ?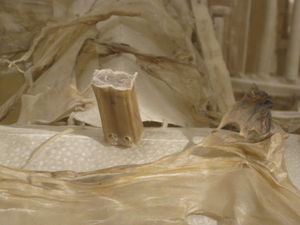 And to finish, something very surprising, "Ghost" by Kader Attia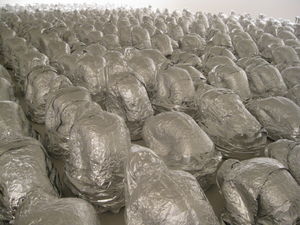 569 women bodies praying, shaped with silver paper (aluminium). It is quite realistic, it feels like the bodies are steel under the paper.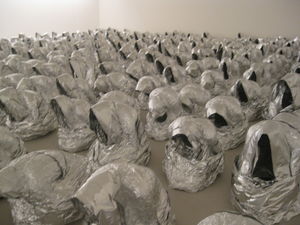 I let you enjoy the pictures, you can go on the 2 links on the top page to see more pictures (and better ones ;) and you can answer the Quizz in the comments. Answers very soon.