There is a big tradition in Germany and in north and east Europe, as well than in the France part of France called Alsace: Sinterklaas !! Or Saint-Nicolas in french, or Nikolaus in German.
The other tradition is to prepare small christmas biscuits called Plaetzchen in Germany or Bredele in Alsace. These are supposed to last for all the month before Christmas and the kids are participating to the biscuits decoration. Thus, for my 2nd Nikolaus in Germany, when I was still not so much aware of german traditions, I had on my desk a pot with small biscuits prepared by a colleague and her 4 years old twins. Sweet !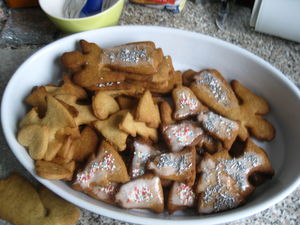 I found that so nice that I promessed myself to bring back this tradition.
As last monday was Nikolaus, Cheri had in his shoes a small Nikolaus in chocolate and a waffle biscuit from here, and my colleagues had a small pocket with the home made biscuits !
However, I do not excel in "christmas decoration in the house" ! I do not like it, especially the Xmas tree ! We just have a cactus that blossum always around Xmas, that Cheri's mum offered us two years ago, and a poor candel that we liked... really poor decoration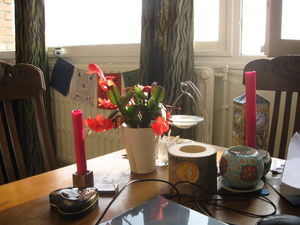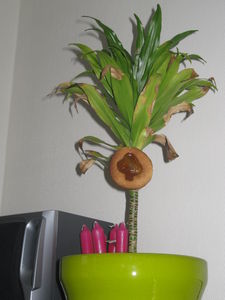 Luckely it was snowing the whole last week, and that brought a bit of Xmas mood, and it was quite cold, between -5 and -3 degrees.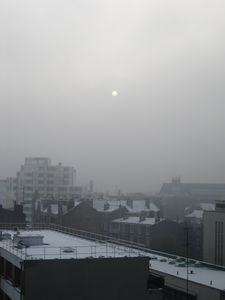 No, no, it is not a night picture, but a day picture where the sun tries to get through the clouds.