Since Wednesday 24, the Christmas market of Lille is open. Luckely, winter arrived at the same time with only a few degrees above 0. That's very important that the weather is cold, it brings the winter mood for the Xmas market.
Before I go on, I have to reminde you that the Xmas market is THE winter attraction in Germany: this is where one brings kids on the week-end, where one goes out with friends or colleagues after work, where everybody meets, speak loud for once in Germany, laugh and is happy.
I can tell you, this is not the case in Lille ! The only good point we found out so far is that it closes late on friday and saturday evenings (9pm !) when in Rostock, at least in our "old good time" it was at 8pm.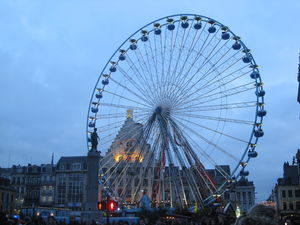 But people are absolutly not there to celebrate all together, they just walk around, like if they visit a museum, and they don't aggregate around one of the small wooden house to talk to people around... to their defense, there is only 3 houses with hot wine, which is quite different to the german Glühwein ! Thus after our first 2 visits we tryed them ALL and already found out our favorite one !
Usually, we were going from one wooden house to the next one, trying wine hesitating, go back the day after to make sure that this one was still our favorite...
One should notice that in Germany the hot wine is served in a mug: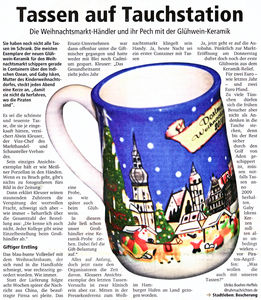 Not only when you buy your hot wine you have to give 1 euro deposit for the mug, that makes a very cheap and ugly souvenir ;) the interest of the mug is that it is practical AND ecologic: you can hold the mug properly with the handle without burning yourself et the mugs are washed and reused when not kept by users.
Here they use plastic cups ! They are slippery when you hold it with your gloves or it burns your hands when they are bare, not to mentione that after 1 month of market there will be a huge waste of plastic !!
So you get it, it is another kind of "it was better in Germany" !
Yes, but because I don't only have bad faith I have to admit that I am glad just to have a Xmas market around the corner as some years ago it was not so popular and only the city of Strasbourg had one. Thus I am happy to go there for a drink with my german guy and to continue our own Xmas traditions.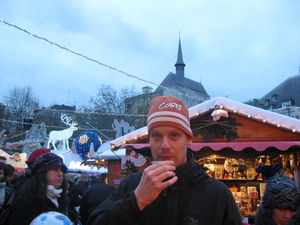 Another good poitn is that we prefer croustillons to Mutze (although according to Wikipedia it is the same) !
Since we were looking for german traditions, we came for a choucroute Saturday night, in a restaurant close to our flat,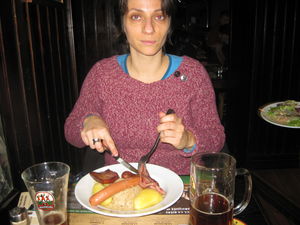 I am not laughing, I am eating !!
and because I am still not tired of it, here is the sunday sunset from our window :)